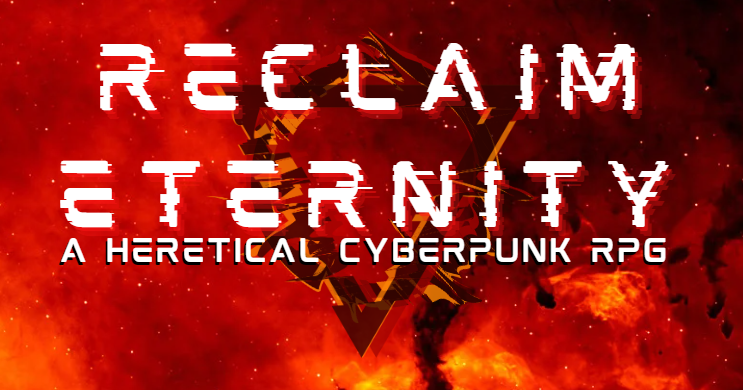 Reclaim Eternity
This game was written and produced on the lands of the Worimi and Awabakal people.
I offer my respect to their People and Elders.
This was, is, and always will be their Sovereign lands

***

For over 90 years God has ruled.
Governed Earth from his orbital throne.
We've. Had. Enough.
The HALO keeps us from fleeing into space.
His Cherubim, cyborg servants, keep us from his palace.
An on Earth the Reverends carry out his will.
Stripping the land of what life remains.
Not everyone is powerless however.
The Reclaimer Heretics live in the walls and secret places.
Modifying their bodies with bits of E-Tek from dead angels,
found in the Carrion Wastes. They willingly defy God.
It's your turn to join them, make a run on heaven.
Smash the defence grid and take what is ours.
God can keep heaven, we want Eternity.

Reclaim Eternity is a Heretical Cyberpunk RPG about breaking into God's orbital palace and stealing medical supplies, cybernetics, and miracles. The main characters of play are vengeful Reclaimer Heretics. Cybernetic renegades hunting for vengeance and a way to help those society has abandoned.

Based on the LUMEN engine, RE is about getting your cybernetic claws deep inside the guts of an angel showing God the price of his war. Reclaim Eternity is currently in Early Access.
The game is full playable, but isn't as pretty as the full version will be.
Buying the Early Access version of the game helps support the games development, and gets you a discount on the finished version.
As improvements are made to the game and new features go online, this page and it's files will be updated to include all that new content.
Below is a non-exhaustive list of content warnings.
Fascism, Imperialism, Religious Zealously and Persecution.
Mentions of Gore, Blood, Corpses, Wounds, and Death.
Environmental Collapse, Climate Destruction, strip mining.
Violence, Grave Robbing, War, Genocide, Queerphobia.
Human Augmentation and Surgery.
Heresy and the desecration of the dead.
Purchase
In order to download this game you must purchase it at or above the minimum price of $4.66 USD. You will get access to the following files:
Reclaim Eternity Early Access.pdf
4 MB
Download demo