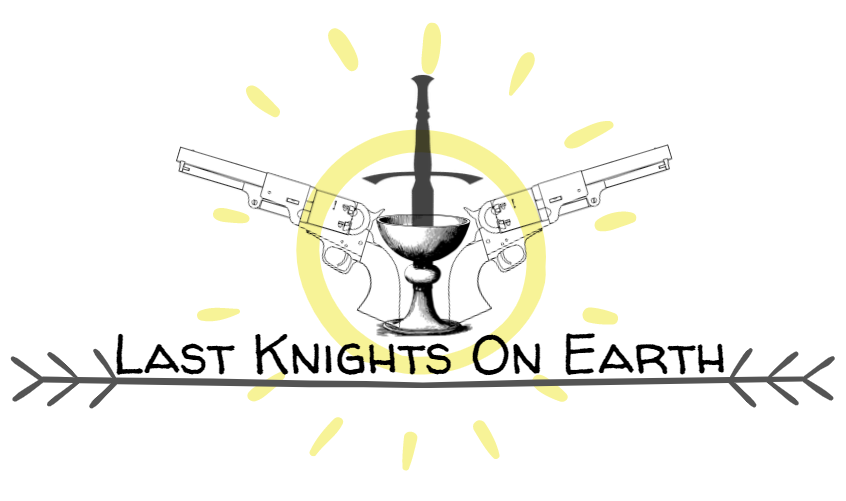 Last Knights On Earth
The Cursed Earth is a sparse, dry, and warped place.
Distorted by the dread wars of old.
The Skirmishes that followed.
And the Road Wars of the present.

The Knights of the Circle use to protect people.
They rode into battle against the forces of darkness in super-charged V8s
They spared no expense when rendering aid
Gave out bullets and food to them that needed which
They slew monsters with magic sword in hand

Their king, Arthur Victorious swore them to service.
Their rolling fortress, Turbo-Camelot, defended the weak.
Sword Priests, Gun Saints, & Drag Demons...
They all fought for us.

Everyone said they were now gone to Ol'Avalon...

But Fuck That Noise!
Pick up the sword, load your six shooter, and grab your fucking keys partner.
You're the Last Knights On Earth and Myrddin has one last quest for you.
***
Last Knights On Earth is a pulp adventure micro RPG.
It's about Knights, Cowboys, and Furious Drivers, all on a mission from god.
Partially based on Big Mutherfuckin' Crab Truckers.
Last Knights On Earth tells fast stories.
***
Included in your purchase are 2 versions of the game.
Version 1 has the original text and is formated for PDF readers.
Version 5(replaces version 4) has revised text, mechanics, and is a zine format. As well as adding a new role to play as.
***
Thank you to The Coalition of Friendship and Fenced Forest, for listening to me.
Inspired by Sturgill Simpson's Visual Album - SOUND & FURY

***
Buying this work above it's asking price will unlock more community copies for those facing financial hardship.

Download
Click download now to get access to the following files:
Last Knights On Earth.pdf
1 MB
Last Knights Zine V5.pdf
1 MB