Felis Chimeris
This game was written on the lands of the
Awabakal & Worimi people.
The games key art was created on Duwamish land.
I offer my respect to their People and Elders.
This was, is, and always will be their Sovereign lands.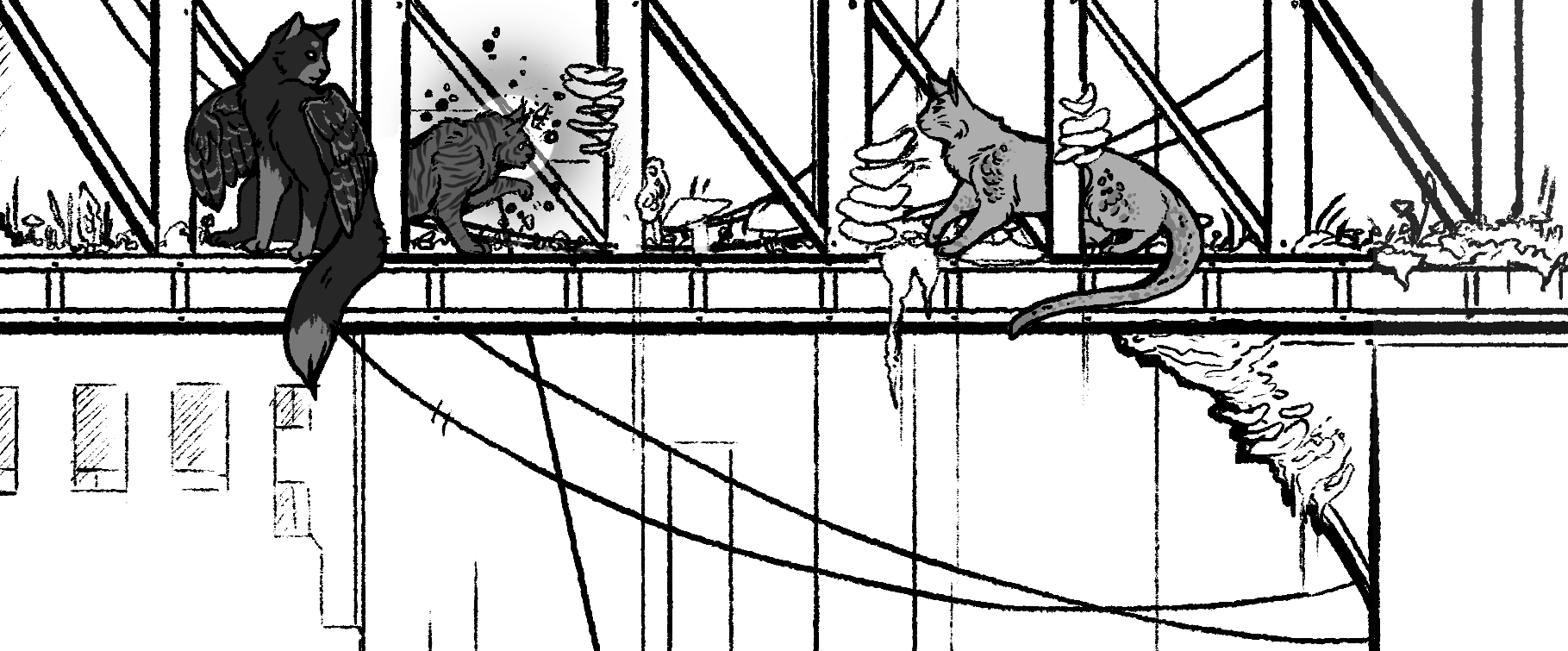 In the cramped and humid streets of Lotus, where it is always dark, a colony of transgenic street cats make their home.
Scavenging in the trash, lounging in grow boxes, and
licking condensation from the walls.
They are as much a part of Lotus as the Shrooms.
This is Felis Chimeris a Biopunk Slice of Life RPG where you play as Transgenic Cats living in the cramped streets of Lotus. You'll get to create your cat and play together as a colony of weird ferals finding your own way in the humid darkness of the city.

Lotus is one of the main districts of the space station city orbiting Jupiter, New Heaven. Which is the setting of my other Biopunk Angel game,
Make Our Own Heaven. You don't need to have read or played that game to understand this one, they just happen in the same setting. Below is the paragraph about Lotus from the other book, just in case you need more inspiration.


Lotus – Jupiter's first housing project, built up in a tight dense ring between the Inner and Outer Docks, like a wall against HiDee and the Plants. Most of Heaven lives here: it's got cramped markets, single room schools, fragrant coffee houses, hole in the wall pubs, tiny gyms and apartment blocks for days. Lotus is the final destination for Heaven's air before it goes back to the Plants for recyc, so the whole district is in full atmo, although you can't always call it fresh.
The volume of air, narrow streets and abundance of darkness make Lotus pervasively wet. While it constantly feels like it just stopped raining, it also grows the best mushrooms this side of Mars. Everyone knows some old-timer with a mushroom farm in their closet. Lotus also acts as a shield for the core districts, protecting them from rads and asteroids. It's the backbone of the city, or maybe its skin. It's a nest, a living breathing nest of life and people.
The game itself isn't very complicated and fits almost entirely on a single sheet of A4 paper. All the same I worked hard to give you the tools you'll need to play. Below is a list of what's included.
Felis Chimeris Print Edition - A simple 2 page PDF set up to allow you to easily print your own copy of the game for use in personal games. This includes all the rules for the game, character sheet, setting information, and a full colour play poster with rules reminder text.
FC Players Sheet - A PNG of the main rules text and character sheet, perfect for online play.
FC Screen Image - A poster style PNG collage for use as a background when running the game online, also featuring reminder text.
This game is available for free, but if you can please tip to fund more great games.
Download
Click download now to get access to the following files:
Felis Chimeris Print Edition.pdf
27 MB